Tis the season for cozy nights spent curled up by the fire, a cup of hot cocoa in hand, and your nose in a good book. Here at the University of Toronto Press, we've put together three thoughtfully curated gift guides to suit every budget, ensuring that there is the perfect book for everyone on your list, and maybe a little something for yourself. This week we're delivering our selection of the "Top Ten Books Under $35."
Feel good this holiday season by supporting university press publishing. Books make the best gifts!
***
Accidental Wilderness: The Origins and Ecology of Toronto's Tommy Thompson Park
By Walter H. Kehm, with Photography by Robert Burley
Once referred to as Toronto's "accidental wilderness," Tommy Thompson Park is now recognized as a fortuitous urban miracle. Initially created as a landfill site on the city's rapidly developing waterfront, the park's physical and ecological footprint have grown dramatically. Forests, grasslands, and wildlife now thrive – all within a stone's throw of some of the most densely populated areas of North America's fourth-largest city.
Accidental Wilderness is a rich and lyrical collection of essays curated by internationally recognized landscape architect and original designer of Tommy Thompson Park, Walter H. Kehm, complemented by a stunning collection of photographs by renowned landscape photographer Robert Burley. The book explores the city's port origins; the park's master plan principles and design; the native-plant succession process; the park's unique flora and fauna; public advocacy; and public recreation in the park and its effect on mental, physical, and spiritual health.
Cloth | 9781487508340 | $49.95 $32.47
***
The Story of CO2: Big Ideas for a Small Molecule
By Geoffrey A. Ozin and Mireille F. Ghoussoub
The climate crisis requires that we drastically reduce carbon dioxide emissions across all sectors of society. The Story of CO2 contributes to this vital conversation by highlighting the cutting-edge science and emerging technologies – a number of which are already commercially available – that can transform carbon dioxide into a myriad of products such as feedstock chemicals, polymers, pharmaceuticals, and fuels. This approach allows us to reconsider CO2 as a resource, and to add "carbon capture and use" to our other tools in the fight against catastrophic climate change.
Cloth | 9781487506360 | $34.95 $22.72
***
In Sight: My Life in Science and Biotech
By Julia Levy
In Sight is a memoir about how a love of science and discovery drove Julia Levy, a celebrated scholar and biotech CEO, to work her way through gender bias in order to achieve academic and professional recognition. Her story traces the unconventional invention of a breakthrough drug treatment from its development from laboratory research to its application as a medical treatment for vision loss.
The book is an honest description of the trials of drug development, the tensions inherent in the commercialization of health innovations, and the truly remarkable hurdles faced by women in the scientific community.
Cloth | 9781487508319 | $34.95 $22.72
***
The Brand-Driven CEO: Embedding Brand into Business Strategy
By David Kincaid
The Brand-Driven CEO demonstrates how senior leadership can use their brand to align and guide the behaviours, decisions, and operations of their entire organization and drive brand and shareholder value. Author David Kincaid delivers practical assessments and game plans for senior executives and managers across functional areas, clarifying the confusion between brand and marketing management.
Using real life, current case studies from today's fastest growing and most valuable brands – including Starbucks, Apple, and BMW – this book reveals how big businesses are being led and managed as integrated business systems and not by marketing departments.
Cloth | 9781487508319 | $32.95 $21.42
***
Creating Gender-Inclusive Organizations: Lessons from Research and Practice
Edited by Ellen Ernst Kossek and Kyung-Hee Lee
With fresh insights on diversity, inclusion, and female leadership, this book will guide managers and organizations as they bridge the gap between research and practice, and better position women in work spaces. Creating Gender-Inclusive Organizations addresses how to improve the climate for gender inclusion; leverage the benefits of gender diverse teams; advance and retain women in STEM; support women in entrepreneurial and high growth firms; and implement D & I initiatives. This book is a must-read for practitioners and human resource and diversity leaders, as well as scholars and students focused on improving the effectiveness of gender diversity and inclusion initiatives within organizations.
Cloth | 9781487503734 | $32.95 $16.48
***
Living with China: A Middle Power Finds Its Way
In an environment of rising tensions over trade and technology – evident in negotiating the USMCA with the United States and doing business with Huawei, the China-based telecommunication giant – Canada needs a China strategy. Living with China is one of the first comprehensive volumes on a forward-looking Canada-China strategy. The recommended strategy includes more leadership from top officials, building a Canada brand, strengthening our international human capital, addressing security issues, and negotiating bilateral trade and investment liberalization. Dobson also acknowledges the importance of addressing such key issues as intellectual property protection, cybersecurity, and value differences such as respect for individual rights.
Cloth | 9781487503734 | $32.95 $21.42
***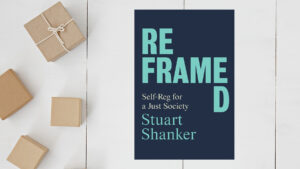 Reframed: Self-Reg for a Just Society
By Stuart Shanker
For Stuart Shanker, the possibility of a truly just and free society begins with how we see and nurture our children. Shanker is renowned for using cutting-edge neuroscience to help children feel happy and think clearly by better regulating themselves. Reframed is grounded in the three basic principles of Shanker Self-Reg®:
There is no such thing as a bad, lazy, or stupid kid.
All people can learn to self-regulate in ways that promote rather than constrict growth.
There is no such thing as a "fixed outcome": trajectories can always be changed, at any point in the lifespan, if only we have the right knowledge and tools.
Only a society that embraces these principles and strives to practice them, argues Shanker, can become a truly just society.
Cloth | 9781487503734 | $34.95 $17.48
***
Art of Captivity / Arte del Cautiverio
By Kevin Lewis O'Neill and Benjamin Fogarty-Valenzuela
Through a series of rich photographs, Art of Captivity / Arte del Cautiverio tells a compelling story about the war on drugs in Central America. The book focuses on the country of Guatemala, now the principle point of transit for the cocaine that is produced in the Andes and bound for the United States and Canada. Alongside a spike in the use of crack cocaine, Guatemala City has witnessed the proliferation of Pentecostal drug rehabilitation centers. The centers are sites of abuse and torment, but also lifesaving institutions in a country that does not provide any other viable social service to those struggling with drug dependency.
Paper | 9781487524807 | $28.95
***
Amsterdam's Canal District: Origins, Evolution, and Future Prospects
Edited by Jan Nijman
In terms of design, scale, and blending of ecologicical and aesthetic function, Amsterdam's seventeenth-century Canal District is a European marvel. Its survival for four centuries is a testament to its ingenuity, reflected in its designation as a UNESCO World Heritage Site in 2010. The Canal District today is an extraordinary example of resilient historic design and cultural heritage in a living city, but it is not without present-day challenges: in recent years, its urban ecology has become subject to severe pressures of global tourism and supergentrification.
This stunning volume brings together seventeen reputable scholars to debate questions about the origins, evolution, and future of the Canal District.
Cloth | 9781487500344| $50.00 $32.50
***
Assassination in Vichy: Marx Dormoy and the Struggle for the Soul of France
By Gayle K. Brunelle and Annette Finley-Croswhite
During the night of 25 July 1941, assassins planted a time bomb in the bed of the former French Interior Minister, Marx Dormoy. The explosion on the following morning launched a two-year investigation that traced Dormoy's murder to the highest echelons of the Vichy regime. Based on the meticulous examination of thousands of documents, Assassination in Vichy tells the story of Dormoy's murder and the investigation that followed.
At the heart of this book lies a true crime that was sensational in its day. A microhistory that tells a larger and more significant story about the development of far-right political movements, domestic terrorism, and the importance of courage, Assassination in Vichy explores the impact of France's deep political divisions, wartime choices, and post-war memory.
Paper | 9781487588366 | $29.95
***
UTP Holiday 100 Sale
In addition to our recommended titles for under $35, we're also running our UTP Holiday 100 sale. This December, we're offering 50% off 100 titles that deserve some extra attention. The sale ends on December 21, 2020.