Here at the University of Toronto Press, we've put together three thoughtfully curated gift guides to suit every budget, ensuring that there is the perfect book for everyone on your list, and maybe a little something for yourself. This week we're delivering the last of our gift guides, our selection of the "Top Ten Books Under $50."
Feel good this holiday season by supporting university press publishing. Books make the best gifts!
***
From Malaise to Meltdown: The International Origins of Financial Folly, 1844–
By Michael Lee
For the past two centuries, the great power sitting atop the international global financial system has enjoyed outsized rewards. As the saying goes, however, all good things come to an end. Providing insights into the evolution of the global political economy, From Malaise to Meltdown identifies the main instigators behind the global financial crises we've seen in the last two hundred years. Michael Lee shows that, in time, power diffuses from the leading economy to others, creating an intensely competitive push for global financial leadership.
From Malaise to Meltdown presents a sweeping but accessible historical narrative about the coevolution of power, ideas, and domestic politics, supported by archival research into the risky decisions that ushered in the worst financial crises in history.
Cloth | 9781487506896 | $50.00 $37.50
***
Being a Scientist: Tools for Science Students
By Michael H. Schmidt
Being a Scientist is a comprehensive introduction to the many aspects of scientific life beyond the classroom and laboratory. Written with undergraduate science majors in mind, the book covers ethics, the philosophical bases of scientific methods, library research, reading, peer review, creativity, proposal and paper writing, and oral and poster presentations.
Written in a conversational style, the book makes use of metaphor, historical anecdote, and hypothetical research about everyday household questions. This approach helps undergraduates learn basic research skills without being too intimidated by the advanced concepts, vocabulary, and methods which are encountered in looking at the current scientific literature.
Paper | 9781487588441 | $36.95
***
Poetry and Crisis: Cultural Politics and Citizenship in the Wake of the Madrid Bombings
By Jill Robbins
On March 11, 2004, Islamist terrorists carried out a massive bombing on Madrid's largely working-class commuter trains, leaving 191 people dead and more than 1,500 others wounded. This event, known in Spain as 11-M, was the second of three highly visible jihadist attacks on the West between 2001 and 2005, and the first in Europe, occurring just days before the national elections in Spain.
Arguing that 11-M marked a critical turning point in Spanish society, this book reveals how poetry played a unique role and reflected a new political and cultural sensibility defined by informal and non-hierarchical networks of communication and memorialization. After the attacks, poems circulated in public spaces in unexpected ways. Poetry and Crisis explores how this essentially poetic sensibility emerged from tragedy, laying the groundwork for similar kinds of affective and grassroots mobilization that continue to grow in Europe today.
Cloth | 9781487504731 | $50.00 $25.00
***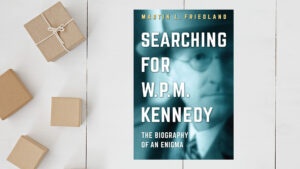 Searching for W.P.M. Kennedy: The Biography of an Enigma
By Martin L. Friedland
Born in Ireland in 1879, W.P.M. Kennedy was a distinguished Canadian academic and the leading Canadian constitutional law scholar for much of the twentieth century. Despite his trailblazing career and intriguing personal life, Kennedy's story is largely a mystery. Weaving together a number of key events, Martin L. Friedland's lively biography discusses Kennedy's contributions as a legal and interdisciplinary scholar, his work at the University of Toronto where he founded the Faculty of Law, as well as his personal life, detailing stories about his family and important friends, such as Prime Minister Mackenzie King.
Paper | 9781487525255 | $49.95 $24.98
***
The Akunin Project: The Mysteries and Histories of Russia's Bestselling Author
The Akunin Project is the first book to study the fiction and popular history of Grigorii Chkhartishvili, one of the most successful writers in post-Soviet Russia. In the first two decades of the twenty-first century, Chkhartishvili has published over sixty books under the pen names Anatolii Brusnikin, Anna Borisova, Akunin-Chkhartishvili, and most commonly, Boris Akunin. His series featuring the tsarist secret policeman Erast Fandorin has sold over 15 million books in Russia alone, making Akunin one of the bestselling authors of the post-Soviet era.
Bringing together scholars of literature, history, and culture, The Akunin Project fills this gap by exploring the author's bestselling adventure novels and recent histories of the Russian state. The book includes translations of five short works previously unavailable in English as well as an interview with the author.
Edited by Elena V. Baraban and Stephen M. Norris
Paper | 9781487525767 | $46.95 $35.21
***
Diplomacy and the Modern Novel: France, Britain, and the Mission of Literature
Edited by Isabelle Daunais and Allan Hepburn
Between 1900 and 1960, many writers in France and Britain either had parallel careers in diplomatic corps or frequented diplomatic circles: Paul Claudel, Albert Cohen, Lawrence Durrell, Graham Greene, John le Carré, André Malraux, Nancy Mitford, Marcel Proust, and others. What attracts writers to diplomacy, and what attracts diplomats to publishing their experiences in memoirs or novels?
In this collection of essays, eleven contributors reflect on diplomacy in French and British novels, with particular focus on temporality, style, comedy, characterization, and the professional liabilities attached to representing a state abroad. With archival examples as evidence, the essays in this volume indicate that modern fiction, especially fiction about diplomacy, is a response to the increasing speed of communication, the decline of imperial power, and the ceding of old ways of negotiating to new.
Cloth | 9781487525767 | $65.00 $48.75
***
My Karst and My City and Other Essays
By Scipio Slataper
Edited, with an Introduction and Notes, by Elena Coda
Translated by Nicholas Benson and Elena Coda
Scipio Slataper is one of the most prominent writers from the Italian town of Trieste. Before the onslaught of World War One, Trieste was a unique urban environment and the largest port in the Austro-Hungarian Empire. It was a financially powerful city and a cosmopolitan centre where Slavic, Germanic, and Italian cultures intersected. Much of Slataper's oeuvre is highly influenced by Trieste's cultural complexity and its multi-ethnic environment.
Slataper's major literary achievement, My Karst and My City – a fictionalized, lyrical autobiography, translated here in its entirety – offers a unique example of an Italian modernist narrative, one that is influenced both by Slataper's collaboration with the Florentine journal La Voce, and by the Germanic and Scandinavian literature that he absorbed while living in Trieste.
Cloth | 9781487508227 | $65.00 $48.75
***
Science in the Kitchen and the Art of Eating Well
By Pellegrino Artusi
Introduction by Luigi Ballerini
Translated by Murtha Baca
First published in 1891, Pellegrino Artusi's La scienza in cucina e l'arte di mangier bene has come to be recognized as the most significant Italian cookbook of modern times. It was reprinted thirteen times and had sold more than 52,000 copies in the years before Artusi's death in 1910, with the number of recipes growing from 475 to 790. And while this figure has not changed, the book has consistently remained in print.
Artusi's masterpiece is not merely a popular cookbook; it is a landmark work in Italian culture. This English edition (first published by Marsilio Publishers in 1997) features a delightful introduction by Luigi Ballerini that traces the fascinating history of the book and explains its importance in the context of Italian history and politics. The illustrations are by the noted Italian artist Giuliano Della Casa.
Paper| 9781487508227 | $58.00 $37.70
***
Arms and Letters: Military Life Writing in Early Modern Spain
By Faith S. Harden
Arms and Letters analyses the unprecedented number of autobiographical accounts written by Spanish soldiers during the sixteenth and seventeenth centuries. These first-person retrospective works recount a range of experiences throughout the sprawling domain of the Hispanic monarchy. Reading a selection of autobiographies in contemporary historical context – including the coalescing of the first modern armies, which were partially populated by forced recruits and the urban poor – Faith S. Harden explains how soldiers adapted the concept of honour and contributed to the burgeoning autobiographical form.
Cloth | 9781487507046 | $60.00 $45.00
***
The Devil's Historians: How Modern Extremists Abuse the Medieval Past
By Amy S. Kaufman and Paul B. Sturtevant
Amy S. Kaufman and Paul B. Sturtevant examine the many ways in which the medieval past has been manipulated to promote discrimination, oppression, and murder. Tracing the fetish for "medieval times" behind toxic ideologies like nationalism, antisemitism, Islamophobia, misogyny, and white supremacy, Kaufman and Sturtevant show us how the Middle Ages have been twisted for political purposes in every century that followed. The Devil's Historians casts aside the myth of an oppressive, patriarchal medieval monoculture and reveals a medieval world not often shown in popular culture: one that is diverse, thriving, courageous, compelling, and complex.
Paper| 9781487587840 | $21.95
***
UTP Holiday 100 Sale
In addition to our recommended titles for under $50, we're also running our UTP Holiday 100 sale. This December, we're offering 50% off 100 titles that deserve some extra attention. The sale ends on December 21, 2020.