As a vehicle for outstanding creativity, the typewriter has been taken for granted and was, until now, a blind spot in the history of writing practices. The Typewriter Century: A Cultural History of Writing Practices provides a cultural history of the typewriter and explores "celebrity writers," including Henry James, Jack Kerouac, Agatha Christie, Georges Simenon, and Erle Stanley Gardner. In this post, author Martyn Lyons shares what a day in the life of a researcher looks like as he discusses some of the meticulous archival research that went into his book.
***
By Martyn Lyons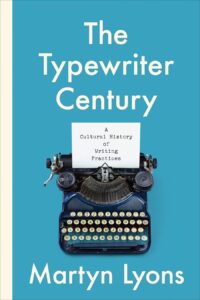 The temperature was below zero when I arrived in Newcastle-on-Tyne to consult the Enid Blyton archive, but my spirits rose after I met Josie Summer in the university's Robinson Library. I was there to investigate Blyton's working habits and especially her use of the typewriter, which was the principal subject of my research. Josie had arranged for the material to be brought to the library from Seven Stories, the little-known National Centre for Children's Books, based in the suburbs of Newcastle, with its archive collections housed in nearby Gateshead. Among Blyton's papers, I found her diaries of the 1920s and 1930s, in which literary matters were interspersed with comments on romantic dates with her first husband and housekeeping notes about seeing the Electrolux man and polishing the bannisters. There, too, I found material collected by Sheila Ray, who published a biography of Blyton in 1982 based on her master's thesis. Ray was potentially an excellent biographer, but she had been side-tracked by the attacks on Blyton's work from librarians and critics. In the 1950s, Blyton was considered too low-brow and undemanding to be of any educational value to children, and some libraries stopped buying any more of Noddy or The Famous Five. And this had nothing to do with the storm which later erupted when Blyton was labelled a racist. I refused to get distracted by these controversies – my focus remained on Blyton's domestic typing, and her claims that her writing was instinctive, so that any planning or intellectual preparation on her part would only get in the way of her prolific production. I registered all this with a pinch of salt: authors are not always the most trustworthy witnesses of their own practices.
This was certainly true of another of my targets, Georges Simenon, creator of Inspector Maigret, whom I tracked down in his native city of Liège. Simenon wrote no fewer than three autobiographies which were essential reading for me, although they fabricated layer upon layer of mystification about the man. Simenon had lived in France, the USA, and Switzerland, but he left his papers to the University of Liège. Unfortunately obtaining access to them was not straightforward. The Simenon papers are kept in the Chateau de Colonster, a mansion which was rebuilt in the eighteenth century so it is not as ancient as it sounds. Since it is 12 kilometres outside the city and difficult to access by public transport, I hired a car. On top of this, I had to negotiate the timing of my stay very carefully: the archivist, Laurent Demoulin, has his day jobs as a writer and university tutor, so that visits have to be co-ordinated with his timetable. Laurent welcomed me generously and proudly showed me off to students and colleagues as an exhibition piece – his Australian visitor.
In the archives, I found what I had come for: the famous yellow A4 envelopes which Simenon used to plan his novels. The envelopes are empty, but on them he sketched the curriculum vitae of his main characters, their family tree, the plan of the neighbourhood or of the apartment where the action took place, as well as other details of the location and the characters' professions. Psychiatrists once suspected that Simenon suffered from Obsessive-Compulsive Disorder, but I found the manila envelopes quite chaotic, covered in scribbles heading in all directions which did not suggest meticulous organisation. I found plenty about Simenon's typing habits, too, and his conviction that the typewriter influenced his writing, which all went into my book, The Typewriter Century. Most of this material was buried in a massive series of files of press cuttings about Simenon. There was no lack of media attention throughout his life and beyond – Paris-Match alone ran 18 articles on him between 1952–2003. This abundance of press comment was one reason I had chosen Simenon as a case study in the first place.
Finding lunch can be a problem when working in a relatively remote location, but Laurent kindly offered to drive me to a nearby university cafeteria. One thing the manuals never tell you is that you cannot do concentrated archival research on an empty stomach. Research can sometimes be a tedious chore, but thanks to Laurent, Josie Summer, and archivists like them, it can also be a pleasure.
Archives of writers' papers were essential to what I wanted to achieve in The Typewriter Century. As I investigated the typewriter's place in their creative techniques, I saw no logical reason to confine my attention to well-known canonical authors. A good literary reputation was insufficient qualification for inclusion in the book. Most of my research was directed at crime writers, children's writers, or romance writers who reveal just as much as the great and famous and play an important role in my book. The Typewriter Century, after all, is not a history of the machine, but of its users, and the ways in which they responded to, fantasised about, and represented the typewriter.
***
Click here to find out more about The Typewriter Century: A Cultural History of Writing Practices.