June is Pride Month, a month dedicated to uniting LGBTQ2S+ communities around the world, raising awareness of issues faced past and present, and working towards a more inclusive society. In this post to celebrate Pride, we have curated a selection of titles that showcase the most cutting edge scholarship in Queer Studies.
***
Featured Titles
Virtual Activism: Sexuality, the Internet, and a Social Movement in Singapore
By Robert Phillips
In Virtual Activism: Sexuality, the Internet, and a Social Movement in Singapore, cultural anthropologist Robert Phillips provides a detailed, yet accessible, ethnographic case study that looks at the changes in LGBT activism in Singapore in the period 1993-2019. Based on extensive fieldwork conducted with activist organizations and individuals, Phillips illustrates key theoretical ideas – including illiberal pragmatics and neoliberal homonormativity – that, in combination with the introduction of the Internet, have shaped the manner by which LGBT Singaporeans are framing and subsequently claiming rights.
Phillips argues that the activism engaged in by LGBT Singaporeans for governmental and societal recognition is in many respects virtual. His analysis documents how the actions of activists have resulted in some noteworthy changes in the lives of LGBT Singaporeans, but nothing as grand as some would have hoped, thus indexing the "not quite" aspect of the virtual. Yet, Virtual Activism also demonstrates how these actions have encouraged LGBT Singaporeans to fight even harder for their rights, signalling the "possibilities" that the virtual holds.
Paper | 9781487525132 | 180 Pages | 7 Images
$26.95 $20.21 with 25% website discount
Read a previous blog post by Robert Phillips: Reimagining Queer Protest in Singapore.
***
VIVA M·A·C: AIDS, Fashion, and the Philanthropic Practices of M·A·C Cosmetics
By Andrea Benoit
The first cultural history of the iconic brand M·A·C Cosmetics, VIVA M·A·C charts the evolution of M·A·C's revolutionary corporate philanthropy around HIV/AIDS awareness. Drawing upon exclusive interviews with M·A·C co-founder Frank Toskan, key journalists, and fashion insiders, Andrea Benoit tells the fascinating story of how M·A·C's unique style of corporate social responsibility emerged from specific cultural practices, rather than being part of a strategic marketing plan.
Benoit delves into the history of the M·A·C AIDS Fund and its signature VIVA GLAM fundraising lipstick, which featured drag performer RuPaul and singer k.d. lang in its first advertising campaigns. This lively chronicle reveals how M·A·C managed to not only defy the stigma associated with AIDS that alarmed many other corporations, but to engage in highly successful AIDS advocacy while maintaining its creative and fashionable authority.
Paper | 9781487520281| 312 Pages | 30 Images
$31.95 $20.77 with 35% website discount
Read a previous blog post by Andrea Benoit: Celebrating a Year of Viva M·A·C with Andrea Benoit.
***
The Seduction of Youth: Print Culture and Homosexual Rights in the Weimar Republic
By Javier Samper Vendrell
A simple man from the provinces, Friedrich Radszuweit merged popular culture, consumerism, and politics as the leader of the League for Human Rights, Germany's first mass homosexual organization. The Seduction of Youth is the first study to focus on the League and its leader, using his position at the centre of the Weimar-era gay rights movement to tease out the diverging political strategies and contradictory tactics that distinguished the movement.
By examining news articles and opinion pieces, as well as literary texts and photographs in the League's numerous pulp magazines for homosexuals, Javier Samper Vendrell reconstructs forgotten aspects of the history of same-sex desire and subjectivity. While recognizing the possibilities of liberal rights for sexual freedom during the Weimar Republic, the League's "respectability politics" failed in part because Radszuweit's own publications contributed to the idea that homosexual men were considered a threat to youth, doing little to change the views of the many people who believed in homosexual seduction – a homophobic trope that endured well into the twentieth century.
Paper | 9781487525033 | 280 Pages | 14 Images
$32.95 $24.71 with 25% website discount
Read a previous blog post by Javier Samper Vendrell: The Struggle for Gay Rights Before Pride.
***
Leading with the Chin: Writing American Masculinities in Esquire, 1960–1989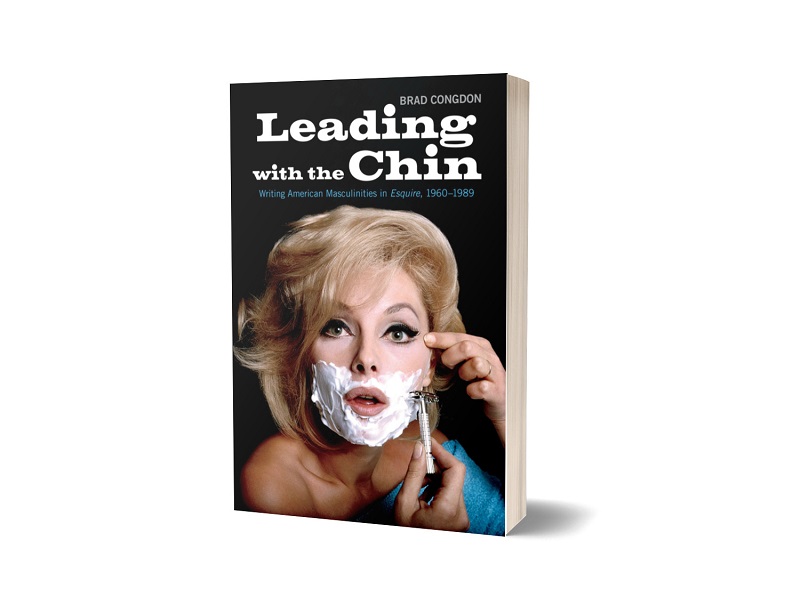 By Brad Congdon
Leading with the Chin focuses on the Esquire writings of James Baldwin, Truman Capote, Raymond Carver, Don DeLillo, Norman Mailer, and Tim O'Brien to examine how these authors negotiated important shifts in American masculinity. Using the works of these six authors as case studies, Leading with the Chin argues that Esquire permitted writers to confront national fantasies of American masculinity as they were impacted by the rise of neoliberalism, civil rights and gay rights, and the cultural dominance of the professional-managerial class.
Applying the methodologies of periodical studies and the theoretical concerns of masculinity studies, this book recontextualizes the prose and fiction of these authors by analyzing them in the material context of the magazine. Relating each author's articulation of masculinity to the advertisements, editorials, and articles published in each issue, Leading with the Chin shows that Esquire reflected and helped to shape the forces that structured American masculinity in the twentieth century.
Paper | 9781487522162 | 288 Pages
$33.95 $25.46 with 25% website discount
***
Queering Urban Justice: Queer of Colour Formations in Toronto
Edited by Jin Haritaworn, Ghaida Moussa, and Syrus Marcus Ware, with Río Rodríguez
Queering Urban Justice foregrounds visions of urban justice that are critical of racial and colonial capitalism, and asks: What would it mean to map space in ways that address very real histories of displacement and erasure? What would it mean to regard Queer, Trans, Black, Indigenous, and People of Colour (QTBIPOC) as geographic subjects who model different ways of inhabiting and sharing space?
The volume describes city spaces as sites where bodies are exhaustively documented while others barely register as subjects. The editors and contributors interrogate the forces that have allowed QTBIPOC to be imagined as absent from the very spaces they have long invested in. From the violent displacement of poor, disabled, racialized, and sexualized bodies from Toronto's gay village, to the erasure of queer racialized bodies in the academy, Queering Urban Justice offers new directions to all who are interested in acting on the intersections of social, racial, economic, urban, migrant, and disability justice.
Paper | 9781487522858 | 240 Pages
$28.95 $24.61 with 15% website discount
***
Prairie Fairies: A History of Queer Communities and People in Western Canada, 1930-1985
By Valerie J. Korinek
Prairie Fairies draws upon a wealth of oral, archival, and cultural histories to recover the experiences of queer urban and rural people in the prairies. Focusing on five major urban centres, Winnipeg, Saskatoon, Regina, Edmonton, and Calgary, Prairie Fairies explores the regional experiences and activism of queer men and women by looking at the community centres, newsletters, magazines, and organizations that they created from 1930 to 1985.
Challenging the preconceived narratives of queer history, Valerie J. Korinek argues that the LGBTTQ community has a long history in the prairie west, and that its history, previously marginalized or omitted, deserves attention. Korinek pays tribute to the prairie activists and actors who were responsible for creating spaces for socializing, politicizing, and organizing this community, both in cities and rural areas. Far from the stereotype of the isolated, insular Canadian prairies of small towns and farming communities populated by faithful farm families, Prairie Fairies historicizes the transformation of prairie cities, and ultimately the region itself, into a predominantly urban and diverse place.
Paper | 9780802095312 | 528 Pages
$46.95 $35.21 with 25% website discount
***
Homophobia in the Hallways: Heterosexism and Transphobia in Canadian Catholic Schools
By Tonya D. Callaghan
Section 15 of the Canadian Charter of Rights and Freedoms ensures equality regarding sexual orientation and gender identity in Canada. Despite this, gay, lesbian, and gender-nonconforming teachers in publicly-funded Catholic schools in Ontario and Alberta are being fired for living lives that Church leaders claim run contrary to Catholic doctrine about non-heterosexuality. Meanwhile, requests from students to establish Gay/Straight Alliances are often denied.
In Homophobia in the Hallways, Tonya D. Callaghan interrogates institutionalized homophobia and transphobia in the publicly-funded Catholic school systems of Ontario and Alberta. Featuring twenty interviews with students and teachers who have faced overt discrimination in Catholic schools, the book blends theoretical inquiry and real-world case study, making Callaghan's study a unique insight into religiously-inspired heterosexism and genderism. She uncovers the causes and effects of the long-standing disconnect between Canadian Catholic schools and the Charter by comparing the treatment of and attitudes towards lesbian, gay, bisexual, transgender, and queer teachers and students in these publicly-funded systems.
Paper | 9781487522674 | 264 Pages
$31.95 $23.96 with 25% website discount
***
Click here to view our full list of titles in Queer Studies.