Sadly, we won't get the opportunity to meet at SMH as we are "attending" this year's annual meeting virtually. However, we're delighted to share some of our newest books in military history in our virtual exhibit.
In addition to the everyday online discounts of up to 35% off on our website, we're offering an additional $5 off any purchases made on utorontopress.com. This offer is valid until May 31, 2021.
Simply enter the promo code MAYCONF2021 at check-out.
For those who planned to attend the conference in person and hoped to discuss new projects, you can contact our acquisition editors. You can reach out to Len Husband at lhusband@utorontopress.com and Stephen Shapiro at sshapiro@utorontopress.com.
***
Featured Titles
Edited by Kelly DeVries and Michael Livingston
Medieval Warfare: A Reader examines how armed conflict was experienced in the Middle Ages both on the field of battle and at home. This comprehensive collection of more than 130 primary-source materials – some translated here for the first time – traces over one thousand years of military developments, including the fall of Rome, the fight for Jerusalem, the building of castles and other fortifications, the rise of gunpowder, and the negotiation of treaties. Developed by two of the leading experts in medieval military history, the readings tell stories of terrors and tragedies, triumphs and technologies in the Middle Ages.
Paper | 9781442636699 | 392 Pages
$51.00 Special ebook price: $41.95
***
War and Enlightenment in Russia: Military Culture in the Age of Catherine II
By Eugene Miakinkov
War and Enlightenment in Russia explores how members of the military during the reign of Catherine II reconciled Enlightenment ideas about the equality and moral worth of all humans with the Russian reality based on serfdom, a world governed by autocracy, absolute respect for authority, and subordination to seniority. Using archival sources, military manuals, essays, memoirs, and letters, the author demonstrates how the Russian militaires philosophes operationalized the Enlightenment by turning thought into reality.
Cloth | 9781487503543 | 336 Pages | 11 Images
$75.00 $56.25 with 25% website discount
***
Galeazzo Ciano: The Fascist Pretender
By Tobias Hof
Building on extensive archival research and important scholarly analysis, Galeazzo Ciano: The Fascist Pretender examines the life of Galeazzo Ciano, foreign minister of fascist Italy from 1936 to 1943 and Benito Mussolini's son-in-law. Ciano's life serves as a lens through which to gain a better understanding of crucial issues of Italian and European fascism, including the fascistization of society and politics, foreign relations, and the problem of succession. The biography follows an innovative thematic structure that focuses on major aspects of Ciano's life, including his family, his political career, his diplomacy, and his desire to succeed Mussolini.
Cloth | 9781487507985 | 472 Pages | 21 Images
$85.00 $63.75 with 25% website discount
***
European Mennonites and the Holocaust
Edited by Mark Jantzen and John D. Thiesen
During the Second World War, Mennonites in the Netherlands, Germany, occupied Poland, and Ukraine lived in communities with Jews and close to various Nazi camps and killing sites. As a result of this proximity, Mennonites were neighbours to and witnessed the destruction of European Jews. European Mennonites and the Holocaust identifies a significant number of Mennonite perpetrators, along with a smaller number of Mennonites who helped Jews survive, examining the context in which they acted. In some cases, theology led them to accept or reject Nazi ideals. In others, Mennonites chose a closer embrace of German identity as a strategy to improve their standing with Germans or for material benefit.
Paper | 9781487525545 | 352 Pages | 7 Images
$39.95 $29.96 with 25% website discount
***
Languages of Trauma: History, Memory, and Media
Edited by Peter Leese, Julia Barbara Köhne, and Jason Crouthamel
Languages of Trauma traces the distinct cultural languages in which individual and collective forms of trauma are expressed in diverse variations, including oral and written narratives, literature, comic strips, photography, theatre, and cinematic images. The central argument is that traumatic memories are frequently beyond the sphere of medical, legal, or state intervention. To address these different, often intertwined modes of language, the contributors provide a variety of disciplinary approaches to foster innovative debates and provoke new insights.
Cloth | 9781487508968 | 424 Pages | 43 Images
$95.00 $71.25 with website discount
***
Dance on the Razor's Edge: Crime and Punishment in the Nazi Ghettos
By Svenja Bethke
Translated by Sharon Howe
The ghettos established by the Nazis in German-occupied Eastern Europe during the Second World War have mainly been seen as lawless spaces marked by brutality, tyranny, and the systematic murder of the Jewish population. Drawing on examples from the Warsaw, Lodz, and Vilna ghettos, Dance on the Razor's Edge explores how under these circumstances highly improvised legal spheres emerged in these coerced and heterogeneous ghetto communities. Looking at sources from multiple archives and countries, this book investigates how the Jewish Councils, set up on German orders, formulated new definitions of criminal offenses and established legal institutions on their own initiative as a desperate attempt to ensure the survival of the ghetto communities.
Paper | 9781487523541 | 304 Images
$29.95 $22.46 with 25% website discount
***
The Soul of Things: Memoir of a Youth Interrupted
By Éva Fahidi
An exceptional document of an extraordinary life, The Soul of Things is the memoir of Holocaust survivor Éva Fahidi. Since the memoir was first published in Hungarian in 2004 under the title Anima Rerum, Fahidi has become a household name in Hungary and in Germany. Featured in countless interviews and several prize-winning documentary films, at the age of ninety-five she is a frequent speaker at Holocaust commemorations in Hungary, Germany, and elsewhere.
The Soul of Things combines a rare depiction of upper-middle-class Jewish life in pre-war Hungary with the chronicle of a woman's deportation and survival in the camps. The English edition includes a new introduction by historians Éva Kovács and Judith Szapor, the original prefaces to the Hungarian and German editions, an essay on the Münchmüle Camp by Fritz Brinkman-Frisch, and extensive notes providing historical and cultural context for Fahidi's narrative.
Paper | 9781487525125 | 304 Pages | 46 Images
$24.95 $16.22 with 35% website discount
***
A Mohawk Memoir from the War of 1812: John Norton – Teyoninhokarawen
Introduced, annotated, and edited by Carl Benn
A Mohawk Memoir from the War of 1812 presents the story of John Norton, or Teyoninhokarawen, an important war chief and political figure among the Grand River Haudenosaunee (or Iroquois) in Upper Canada. Norton saw more action during the conflict than almost anyone else, being present at the fall of Detroit; the capture of Fort Niagara; the battles of Queenston Heights, Fort George, Stoney Creek, Chippawa, and Lundy's Lane; the blockades of Fort George and Fort Erie; and a large number of skirmishes and front-line patrols.
Norton's account, written in 1815 and 1816, provides nearly one-third of the book's content, with the remainder consisting of Carl Benn's introductions and annotations, which enable readers to understand Norton's fascinating autobiography within its historical contexts.
Paper | 9781487523268 | 392 Pages | 34 Images
$39.95 $29.96 with 25% website discount
***
Canada at War: Conscription, Diplomacy, and Politics
By J.L. Granatstein
Canada at War explores the impact of the two world wars on Canada and Canadians by examining conscription, foreign policy, and politics, with William Lyon Mackenzie King, Canada's longest-serving prime minister, acting as the book's central figure. In this collection of essays, J.L. Granatstein brings together research from archives in Canada and abroad, illuminating Canada's political transition from the British to American sphere of influence in the first half of the twentieth century. Granatstein reflects on the most significant issues affecting Canadians during the wars, showing how this period ushered change into the Canadian landscape and transformed Canada into the country that it is today.
Paper | 9781487524760 | 328 Pages
$32.95 $21.42 with 35% website discount
***
Not for King or Country: Edward Cecil-Smith, the Communist Party of Canada, and the Spanish Civil War
By Tyler Wentzell
Not for King or Country tells the story of Edward Cecil-Smith, a dynamic propagandist for the Communist Party of Canada during the Great Depression. Worried by the growing strength of fascism around the world, particularly in China, Germany, Italy, and Spain during the summer of 1936, Cecil-Smith quietly departed Canada and became among the first volunteers to fight for the Republic in the Spanish Civil War. Cecil-Smith was motivated to fight not out of any sense of traditional patriotism ("for king or country") but out of a sense that the onward march of fascism had to be stopped, and Spain was where the line had to be drawn.
Not for King or Country is the first biography of a Canadian commander in the Spanish Civil War, and is also the first book to critically analyse the major battles in which the Canadian and American volunteers fought.
Paper | 9781487522889 | 368 Pages
$39.95 $29.96 with 25% website discount
***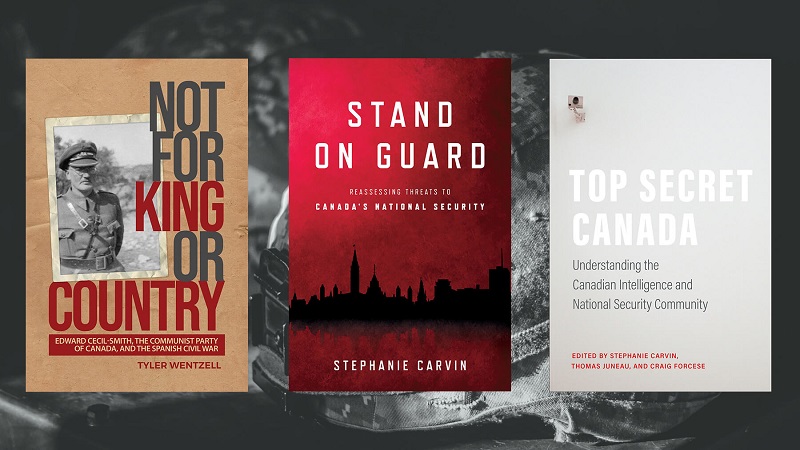 Stand on Guard: Reassessing Threats to Canada's National Security
By Stephanie Carvin
In Stand on Guard, Stephanie Carvin sets out to explain the range of activities considered national security threats by Canadian security services today. As new forms of terrorism and extremism appear, especially online, we need a responsibly widened view of such threats and how they manifest in the contemporary world. Canadians should not be more fearful, Carvin explains, but a more sophisticated understanding among security services personnel and the general public is needed if we are to anticipate and ameliorate threats to national security.
Paper | 9781487524517 | 424 Pages
$35.95 $23.37 with 35% website discount
***
Top Secret Canada: Understanding the Canadian Intelligence and National Security Community
Edited by Stephanie Carvin, Thomas Juneau, and Craig Forcese
National security in the interest of preserving the well-being of a country is arguably the first and most important responsibility of any democratic government. Yet, despite the centrality of national security, the study of the intelligence community in Canada has been largely neglected by scholars. Motivated by some of the pressing questions and concerns of citizens, Top Secret Canada is the first book to offer a comprehensive study of the Canadian intelligence community, its different parts and how it functions as a whole. In taking up this important task, the editors and contributors aim to identify the key players, explain their mandates and functions, and assess how they interact with each other.
Paper | 9781487525279 | 328 Pages
$36.95 $27.71 with 25% website discount
***
Click here to view our full list of titles in Military History.