Are you behind on your Reading Challenge Goal this year? Whether you've pledged to read 10 or 100 books this past year, it's always exciting to read more. Before the year is up, check out this list of our favourite short books – all under 200 pages – that you will actually have time to read, no matter how busy your schedule.
---
Public Inquiries: A Scholar's Engagements with the Policy-Making Process
By Michael J. Trebilcock
An internationally renowned scholar of law and economics, Michael J. Trebilcock has spent over fifty years teaching and researching at the intersection between ideas, interests, and institutions. In Public Inquiries, Trebilcock reflects on his extensive experiences and sheds light on the role of scholars in engaging with the Canadian public policy-making process.
Hardcover | 978-1-4875-5115-5 | $39.95 | 136 Pages
---
Canada in Question: Exploring Our Citizenship in the Twenty-First Century
By Peter MacKinnon
Exploring pressing questions around Canadian citizenship, this book delves into contemporary issues that come into play in identifying what it means to be Canadian. Shedding light on the connection between economic opportunity and citizenship, and on the institutional context in which differences must be accommodated, Canada in Question examines current circumstances and new challenges, and looks to the unique future of Canadian citizenship.
Paperback | 978-1-4875-4314-3 | $24.95 | 136 Pages
---
Taoism, Teaching, and Learning: A Nature-Based Approach to Education
By John P. Miller with Xiang Li and Tian Ruan
The ancient Chinese philosophy of Taoism contains profound wisdom about the cosmos, nature, human life, and education. Taoism seeks to be in harmony with nature, and using it as a guide can help us live in a way that is healing to both ourselves and the planet. Taoism, Teaching, and Learning identifies key aspects of Taoist thought and highlights how these principles can promote a holistic approach to teaching and learning.
Paperback | 978-1-4875-4095-1 | $29.95 | 144 Pages
---
Simply Institutional Ethnography: Creating a Sociology for People
By Dorothy E. Smith and Alison I. Griffith
Institutional ethnography (IE) originated as a feminist alternative to sociologies defining people as the objects of study. Instead, IE explores the social relations that dominate the life of the particular subject in focus. Simply Institutional Ethnography is written by two pioneers in the field and grounded in decades of ground-breaking work. Dorothy E. Smith and Alison I. Griffith lay out the basics of how institutional ethnography proceeds as a sociology.
Paperback | 978-1-4875-2806-5 | $28.95 | 154 Pages
---
Delivery by Design: Intermunicipal Contracting, Shared Services, and Canadian Local Government
By Zachary Spicer
Relying on extensive data and document collection, surveys, and a series of primary interviews with local decision-makers, Delivery by Design explores the nature of interlocal collaboration in Canada, mapping out a relatively understudied process in local governance.
Hardcover | 978-1-4875-0524-0 | $50.00 | 161 Pages
---
Queer Professionals and Settler Colonialism: Engaging Decolonial Thought within Organizations
By Cameron Greensmith
This book works to dismantle the perception of an inclusive queer community by considering the ways white lesbian, gay, bisexual, trans, and queer (LGBTQ2S+) people participate in larger processes of white settler colonialism in Canada. The book highlights the stories of non-Indigenous LGBTQ2S+ service providers are doing important work to help, care, and heal.
Paperback | 978-1-4875-2534-7 | $29.95 | 162 Pages
---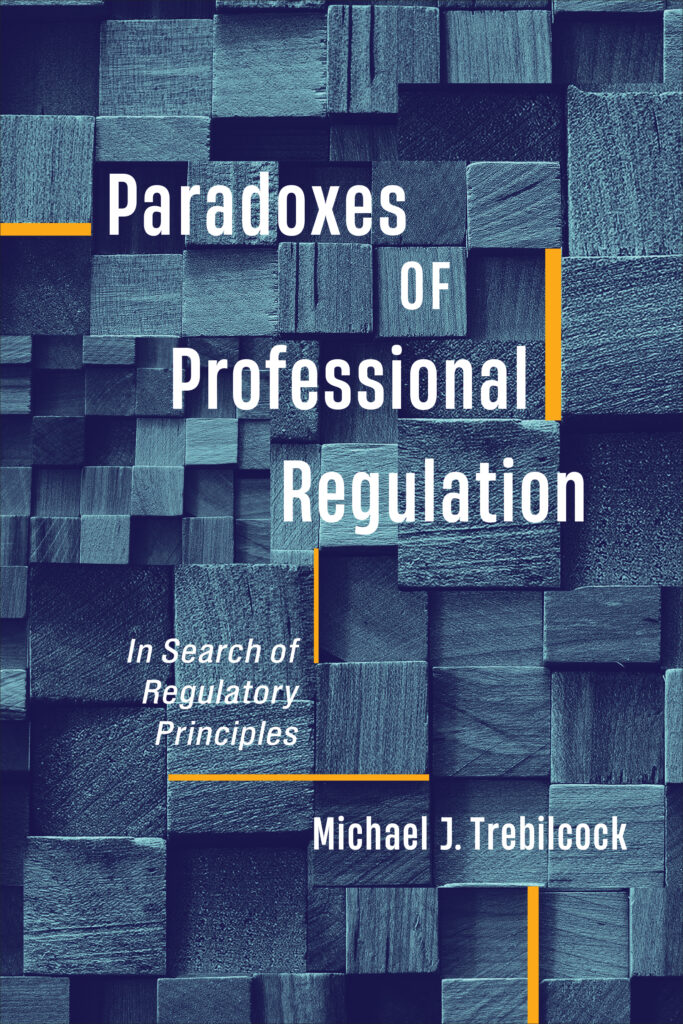 Paradoxes of Professional Regulation: In Search of Regulatory Principles
By Michael J. Trebilcock
Michael J. Trebilcock examines five case studies of the regulation of diverse professions, including alternative medicine, mental health care provision, financial planning, immigration consulting, and legal services. Noting the widely divergent approaches to the regulation of the same professions across different jurisdictions – paradoxes of professional regulation – the book is an attempt to develop a set of regulatory principles for the future.
Hardcover | 978-1-4875-4304-4 | $45.00 | 168 Pages
---
Toronto the Good?: Negotiating Race in the Diverse City
By Shana Almeida
Armed with the motto "Diversity Our Strength," the City of Toronto has garnered a world-class reputation for challenging racism, largely because of how it is seen to value and include racialized groups through its diversity policies and practices. Toronto the Good? unsettles popular depictions of both diversity and the City of Toronto by attending to what diversity does in and for the City in the context of historical relations of race.
Paperback | 978-1-4875-6053-9 | $29.95 | 172 Pages
---
Ivan Illich Fifty Years Later: Situating Deschooling Society in His Intellectual and Personal Journey
By Rosa Bruno-Jofré and Jon Igelmo Zaldivar
In 1971, priest, theologian, and philosopher Ivan Illich wrote Deschooling Society, a plea to liberate education from schooling and to separate schooling from the state. On the occasion of the fiftieth anniversary of its publication, this book looks at the theological roots of Illich's thought and the intellectual and ideological strands that contributed to his ideas.
Hardcover | 978-1-4875-4506-2 | $60.00 | 176 Pages
---
Heidegger's Being: The Shimmering Unfolding
By Richard Capobianco
In Heidegger's Being: The Shimmering Unfolding, the eminent Heidegger scholar Richard Capobianco draws on many new texts and sources to highlight in fresh ways the beauty and spiritual resonance of Martin Heidegger's thinking about Being. This book is intended not only for dedicated students of Heidegger's work but also for engaged general readers who wish to come to a deeper appreciation of his distinctive vision of Being.
Paperback | 978-1-4875-5137-7 | $24.95 | 200 Pages