Between 1870 and 1914 almost one-quarter of Iceland's population migrated to North America, forming enclaves in both the United States and Canada. Released earlier in the year, The Viking Immigrants maps the transformation of Icelandic North American culture over a century and a half and reveals the hidden histories behind everyday traditions. In this post, author L.K. Bertram takes us back in time to 1920 and explores the Christmas traditions of a bustling Icelandic neighbourhood in Winnipeg 100 years ago. Cozy up and enjoy!
***
By L.K. Bertram
Historical immigrants were masters of coping with separation and upheaval. What can they teach us about survival, adaptation, and happiness over the holidays? Using historical Icelandic immigrant newspapers, I'd like to explore that question and invite you on a little time-travelling walk in my own community. Get your mitts out. We're going to "Icelandic Main Street," a thriving immigrant neighbourhood in Winnipeg, Treaty One Territory, one hundred years ago.
On the last days before Christmas 1920, the Icelandic immigrant neighbourhood is covered in snow and people are celebrating the end of years of tragedy and crisis. From 1914–1918, the First World War dominated life here. Numerous Icelandic Canadians enlist and are wounded or killed. When the war ends, the Spanish Flu arrives in this area, right on time for Christmas 1918. The community is hit hard and internal strife also simmers after the Winnipeg General Strike in 1919. Photos from this time show people ageing more quickly under the strain. Christmas 1920 is one of the first normal holidays in years – and people are ready to celebrate.
Hundreds of buildings and apartments in Winnipeg have an Icelandic connection. Nearly one quarter of Iceland's population came to North America between 1870 and 1914. Icelanders settle in many different places, including a rural colony north of Winnipeg called "New Iceland," though most settle here in the city. In their biggest neighbourhood in 1920 we find an Icelandic cultural, political, and social scene at full boil on Sargent Avenue in the city's West End.
Heading north from Portage, we pass "Hekla," a stylish new apartment block named after an Icelandic volcano. (It's arguably a marketing ploy. Winnipeg winters make hot lava attractive.) Younger Icelandic Canadians are preparing for an Icelandic student dance at 653 Sargent tonight at the "Goolie Hall," the most popular venue in the neighbourhood. (Goolie is slang for an Icelander in Winnipeg – it's a controversial name but it sticks.) The hall is packed for much of December with plays, dances, parties, and meetings. As soon as the dance ends, people have to replace the chairs to prepare for the latest sold-out Icelandic drama. Ticket sales are so good even the English newspapers take note.
Prohibition is one of the reasons why the booze-free entertainment at the Goolie Hall is so popular. In 1920, drinking establishments are officially closed, but in other years we could pop down to 696 Sargent to visit a wilder, more secretive side of the neighbourhood. Viking Billiards (and barber shop) has high ceilings where cigarette smoke wafts and animated English mixes with Icelandic. It's actually in an early type of strip mall. There is a side door to roll in kegs of beer and other adult beverages. This is one of many watering holes patronized by Icelanders – and possibly the best place to spot local Icelandic celebrities. By 1920, this means the Falcons, the local Icelandic immigrant hockey team that wins the first Olympic hockey competition ever held.
Everybody here has a connection to the Falcons, who helped start an Icelandic Canadian league because the established leagues treated "foreigners" so poorly. In 1920, team captain Frank Fredrickson (aka Sigurður) is heading home through the snow to 739 Elgin. He might have his violin with him. This hockey star is also a passionate musician and he leads a surreal life. During the war, he and his violin survive being torpedoed in the Mediterranean. He floats for days in the sea, playing music in a crowded life boat. After he wins gold with the Falcons in 1920, Frank becomes an NHL star. Princeton offers him a coaching job in 1933. He takes the job and the violin comes too. Fortunately, Frank's new neighbour at Princeton is also a devoted violinist. Albert Einstein is thrilled to have someone to play duets with.
Icelandic Winnipeg is filled with characters with a front seat and occasionally a leading role in twentieth-century history. Frank's friend, Charlie Thorson, also lives around here. He leads a similarly surreal life. Charlie is the child of immigrants, a famous artist … and a playboy. Best known for his role in developing characters like Bugs Bunny, Popeye, and a host of Disney characters, Charlie bumps elbows with some of the biggest names in Hollywood. But the biggest star in Charlie's universe becomes a Sargent Avenue coffee shop waitress. He claims to immortalize her in a Disney blockbuster in the 1930s. If there is only one place you need to see on Sargent, it's a cozy Icelandic café where locals say Snow White pours the coffee.
The smell of coffee, cinnamon, and cardamom greet us as we walk in the door of the Wevel Café. It's at 692 Sargent, in the same strip mall that Viking Billiards eventually occupies. Few tourism agencies celebrate old strip malls, but this one is proof that they too can be sacred. Icelandic immigrants come from a serious coffee drinking culture, so coffee houses are important places. The Wevel is our most famous. Waitress Kristín Sölvadóttir will start work here in the 1930s. She is fresh off the boat from Siglufjörður. Her flawless Icelandic makes her popular with older customers. As his career takes off, Charlie the artist becomes obsessed with the young waitress and he asks her to marry him. He's more than 20 years older, but it's the middle of the Great Depression. Kristín could escape to a gilded life in sunny Hollywood. But she says "no" and goes back to Iceland.
I love this story about the Sargent Avenue Snow White. It's the opposite of the Disney movie. Icelandic women have a reputation for this kind of ferocious independence. Walking down the street in 1920, we pass older women from the immigrant generation navigating the ice on the sidewalk. Appearances aside, many of these women are tough as nails. Some used immigration as a form of divorce or to escape domestic violence. Others used it to get out of poverty. (One of these gals even beat up a brothel madam in 1876 – more on her in my book if you're curious). In Canada, many Icelandic women work long hours, often making their living in domestic service or the fashion industry. Some save enough to start their own businesses, including Ovídá Swainson who opens a hat shop at 696 Sargent (before it turns into a pool hall) and Mrs. Gunnlaugsson who runs a lingerie shop at 685 Sargent. Icelandic women are also among the earliest to demand the right to vote here. We brush past Miss Salome Halldorson, a petite schoolteacher with terrible taste in hats. In 1936, she becomes the first Icelandic woman elected to the Manitoba Legislature, but she signed her first suffrage petition around the age of 8.
Another kind of Icelandic matriarchy reigns over an immaculate basement kitchen at the nearby First Lutheran Church at 580 Victor. People line up for Christmas bake sales here, especially for the vínarterta. This little striped fruit torte is a must-have at Christmas. The church ladies are known for their vínarterta and strong Icelandic coffee. One hundred years later, you'll find their battle station ready for action. Colourful, scrubbed cabinets are still perfectly packed with rows of matching coffee cups.
Before the shops close up for the holidays, we head to the Icelandic grocery stores. There's G. Eggertsson & Sons at 798 Sargent and "The West End Grocery" at 680 Sargent. This English-sounding store is packed to the gills with Icelandic Christmas food. People are grabbing hangikjöt (smoked lamb or mutton) wrapped in paper, harðfiskur (dried fish eaten with butter), and fresh salmon imported for the holidays. We head to the Icelandic bakeries for more vínarterta, along with kleinur (donuts) and rúgbrauð (sweet rye bread baked in volcanic earth at home). Locals recommend Bjarnason's Bakery at 631 Sargent and "Home Bakery" at 653 Sargent. Now it's time to grab some gifts. The Icelandic music store at 676 Sargent is busy. Phonographs are the must-have gift in 1920, but a word to the wise: it is traditional to give books at Christmas.
Every year in Iceland, bookstores brace themselves for "jólabókaflóðið," or the "Christmas book flood." Books and writing are central to Icelandic identity – a tradition that goes back to our medieval Sagas. They're also a status symbol. A house without books is like having no chairs. According to the old Icelandic saying, "blind is the bookless man." Winnipeg is home to several Icelandic printers who feed this addiction in 1920. These include The Viking Press (853 Sargent), Columbia Press (695 Sargent), and my favourite, Ólafur Thorgeirsson's at 674. Immigrant Icelanders from all walks of life write and publish, from housepainters to fishermen. One local, Margret Jónsdóttir Benedicktsson, even runs an Icelandic feminist press in the backyard of her house at 530 Maryland until 1910. As another saying goes, everyone is born "with a book in their stomach."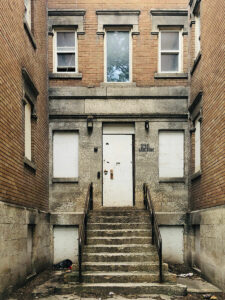 Ólafur Thorgeirsson's book and print shop at 674 Sargent is just about to close, but we squeak in the door. The owner is a talented writer and printer, with an eye for colour and flare. In addition to books, we find his bright Christmas cards in Icelandic, copies of the Icelandic Sagas (a popular choice), and a cheerful new Icelandic alphabet book for kids. Many old immigrants are buying this for their grandchildren, hoping they won't lose their mother tongue. Just one peek in this bookshop can tell us so much about the community in 1920. Icelandic Main Street is celebrating the new and the old together on the edge of a different age.
Thanks for walking with me. I hope that your toes didn't freeze. Today, almost nothing remains to mark the Icelandic neighbourhood or many of the characters who called this place home. As the older Icelandic-speaking generations dwindled and their children and grandchildren achieved upward mobility, the need for an Icelandic neighbourhood in the city declined. Famous buildings like Snow White's coffee shop are now unmarked storefronts and Hekla, the volcanic apartment block, was recently demolished. Several more of these other storied buildings are at risk of a similar fate.
Thankfully a new generation of neighbours is taking good care of some of these spots. The Goolie Hall has just been renovated by a church with roots in Nigeria and Viking Billiards at 696 is home to a legendary Salvadorian grocery store called El Izalco.
Hong Hing, a classic Chinese-Canadian restaurant now operates from the pretty little brick building where Mrs. Gunnlaugsson used to sell lingerie. Ólafur Thorgeirsson's print and book shop at 674 has been transformed into a chocolate shop. Sargent is also home to a large and diverse Indigenous community and at Arlington and Sargent stands a bustling Inuit community centre for another group of Northern arrivals. Here, community members can access something Icelanders also felt was as essential as food or housing: books and connection in a home language. We are just one chapter in the longer history of this neighbourhood, and to me, these beautiful buildings are packed with living stories about adaptation, resilience, and strength as valuable as any of the medieval Icelandic Sagas that Ólafur used to sell at his shop.
***
Click here to find out more about The Viking Immigrants: Icelandic North Americans.